By Dark Politricks
One of Europes top experts on controlled demolition, Danny Jowenko, discusses the controlled demolition of WTC-7.
This excerpt has been taken from an excellent article explaining the collapse of World Trade Center 7 which can be found here: heiwaco.tripod.com
Upper Part of WTC 7 free fall drops for 2.25 Seconds
NIST has agreed/confirmed the finding that the upper part of WTC 7 free fall drops (acceleration 9.82 m/s²) for 2.25 seconds during the collapse, i.e. there is no support/resistance of the upper part above floor 16, when it displaces downward abt 32 meters. See e.g. figure 3.15 in the report (also below)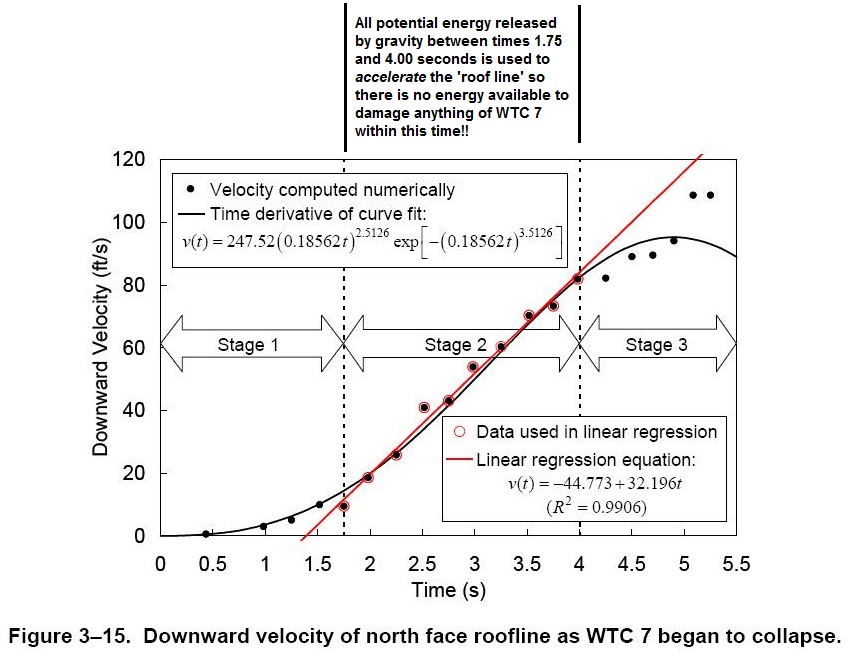 What a free fall drop is, is explained
here
! And
here!
According NIST the constant acceleration of the roofline is 32.196 feet/s² or 9.814 m/s² between time 1.75 and 4 seconds when the roofline velocity increases from 11.57 to 84.01 feet/s or 3.52 to 25.61 m/s! 

This acceleration is equivalent to gravity acceleration = 100% free fall drop.

The average speed during this time is 14.56 m/s and the total free fall displacement is 32.77 meters. 

This makes controlled demolition the OFFICIAL position of NIST

.
Anyone who does not understand this, simply does not understand what free fall drop means. Free fall drop means NOT DOING ANY WORK INCLUDING DESTROYING STRUCTURE BELOW AT ALL – OTHER THAN FALLING.
It evidently means that 32.77 meters height of structure below must have been destroyed completely for the roofline to free fall drop.
NIST suggests that this free fall drop was initiated by failure of column 79 between floors 11/13 followed by a vertical and horizontal progression of failures (no details of course except some strange figures) below floor 16 that apparently removed all support/resistance of the upper part for 32.77 meters vertically down at one side only and the complete structure horizontally.

If WTC 7 is represented by three parts A, B and C, where part A is floors 0-6, part B is floors 6-14 (24 meters tall) and part C is floors 14-47 (see picture left), free fall of part C is only possible if, e.g. part B (or more!) is suddenly and totally removed! Then part C free falls on part A.

Free fall dropping upper part C of WTC 7 (above floor 14) does not apply any loads at all on the structure below floor 14 during this time!

A free falling part C does not apply any forces or loads on anything (except the air (!) it drops through) until it contacts part A! So how can the upper part C above floor 14 damage the lower part below floor 14 as suggested by NIST during these 2.25 seconds? What kind of structural analysis is done … when no loads except air resistance are applied?

Furthermore – NIST suggests that the upper part C deforms itself during these 2.25 seconds … when no forces (except air resistance) at all are applied to it (all masses of the upper part are in free fall drop!). Same question … how can a free fall dropping upper part C deform?

NIST has been asked these questions … and could not reply!
The NIST statement on page 57 –
"Computer simulations of … the structural collapse can be used to predict a complex degradation and collapse of a building",
has no foundation in the case of WTC 7. NIST has not done a correct job! The WTC 7 structure does not collapse as shown in figures 3.10-14 due to removing a part of Column no. 79 as a local failure. Quite easy for anybody with basic knowledge of structural analysis to verify!
When a structure is free fall dropping no internal forces act on the elements in the structure.
So we are still waiting for an explaination consistent with scientific principles that explains the 2.25 seconds of freefall that occurred during the collapse of World Trade Center 7