Chief prosecutor investigates evidence of sexual attacks on women as Britain tells Nato: you must do more.
By Ed Pilkington, Xan Rice, Chris Stephen, Richard Norton-Taylor
The Guardian
Thursday 9 June 2011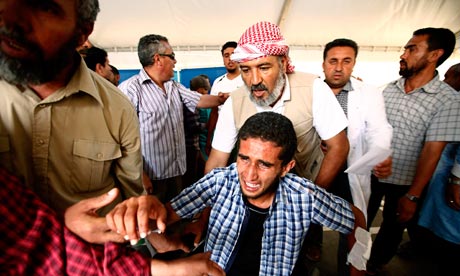 An injured Libyan rebel fighter mourns for his fallen comrade killed by a Grad rocket belonging to forces loyal to Muammar Gaddafi at a hospital in Misrata, Libya. Photograph: Zohra Bensemra/Reuters
The chief prosecutor of the international criminal court (ICC) is likely to add rape to the war crimes charges against Muammar Gaddafi on the back of mounting evidence that sexual attacks on women are being used as a weapon in the Libyan conflict.
Luis Moreno-Ocampo told reporters at the UN in New York last night there were strong indications that hundreds of women had been raped in the Libyan government clampdown on the popular uprising and that Gaddafi had ordered the violations as a form of punishment.
The prosecutor said there was even evidence that the government had been handing out doses of Viagra to soldiers to encourage sexual attacks. Moreno-Ocampo said rape was a new tactic for the Libyan regime. "That's why we had doubts at the beginning, but now we are more convinced. Apparently, [Gaddafi] decided to punish, using rape."
The move came as Gaddafi's forces responded to Nato's intensified aerial bombardment of Tripoli on Tuesday by launching a heavy attack on rebel positions outside the liberated city of Misrata, unleashing a barrage of Grad rockets and mortars against rebel positions to the east, west and south of Misrata early on Wednesday morning, and followed up with an infantry assault. The Hikma hospital reported at least 10 rebel fighters died and 26 were wounded.
The attack came as Liam Fox, the defence secretary, expressed increasing frustration with the slow progress of the western-led military campaign, forcefully telling fellow Nato ministers at a meeting in Brussels they should contribute more.
Nato said the targets it had struck in and around Tripoli included six command and control centres, two anti-aircraft guns, a radar system and a vehicle storage facility. The worst damage occurred at Gaddafi's Bab al-Aziziya compound, where several buildings were destroyed, sending giant plumes of smoke into the sky. Bombing continued on Wednesday morning, but with less intensity.
Gaddafi, who is in hiding in the capital and has rarely been seen or heard from in recent weeks, reacted with fury to the attack, insisting he would fight to the end in an audio broadcast on state television.
Government spokesman Moussa Ibrahim said 31 people – soldiers, guards, and civilians – had been killed and described Nato as "the forces of evil". The casualty figure could not be independently verified.
In an attempt to show Nato had struck non-military targets, government minders on Wednesday morning took journalists to see a "nature reserve", occasionally used by Gaddafi to entertain guests, which had been hit the previous evening.
The missiles had destroyed two trucks, one of them very large, a golf cart, a large tent and several containers, including one that had computer equipment and a paper shredder inside.
Officials were unable to explain what the vehicles were doing on a nature reserve, or why there were windsocks nearby, which appeared to suggest the presence of an airfield.
The surge in the number of attacks on targets in Tripoli, which follows the incorporation of attack helicopters into Nato's mission on the weekend, is a clear attempt to end the military stalemate on the ground and hasten Gaddafi's exit. Nearly four months into the conflict, rebels control large parts of eastern Libya, a string of towns in the western mountains, near the border with Tunisia, as well as Misrata. Opposition fighters there said they had repelled Wednesday's attack by government forces.
"Our will is stronger than theirs," said Sadik Ibrahim Mohammed, an injured rebel fighter. "The Shebab [rebels] have the heart. The Gaddafi soldiers ran away."
But the various frontlines are all still some way from Tripoli, where the regime still has a tight grip on the population. The Libyan government says that the escalated aerial campaign against Gaddafi had gone far beyond the mandate of protecting civilians, a point some critics of the operation outside Libya agree with.
Fox told a meeting of Nato ministers: "I firmly believe that we must intensify our pressure on the regime and it is imperative our military commanders have the assets and capabilities they need to do the job all of us around this table have asked of them: to defeat those regime elements which continue to threaten civilians. Let me be frank. Nato is not just about military hardware. It is also about values. And those values are not an optional extra."
View the original article at The Guardian.