Page 2 – 9.11 skeptics versus logic, reason and scientific principles
By Dark Politricks
Read page 1 of 9.11 skeptics versus logic, reason and scientific principles here.
As seen in this revealing photo, the Twin Towers' destruction exhibited all of the characteristics of destruction by explosives:
Destruction proceeds through the path of greatest resistance at nearly free-fall acceleration
Improbable symmetry of debris distribution
Extremely rapid onset of destruction
Over 100 first responders reported explosions and flashes
Multi-ton steel sections ejected laterally
Mid-air pulverization of 90,000 tons of concrete & metal decking
Massive volume of expanding pyroclastic-like clouds
1200-foot-dia. debris field: no "pancaked" floors found
Isolated explosive ejections 20 – 40 stories below demolition front
Total building destruction: dismemberment of steel frame
Several tons of molten metal found under all 3 high-rises
Evidence of thermite incendiaries found by FEMA in steel samples
Evidence of explosives found in dust samples
No precedent for steel-framed high-rise collapse due to fire
And exhibited none of the characteristics of destruction by fire, i.e.
Slow onset with large visible deformations
Asymmetrical collapse which follows the path of least resistance (laws of conservation of momentum would cause a falling, intact, from the point of plane impact, to the side most damaged by the fires)
Evidence of fire temperatures capable of softening steel
High-rise buildings with much larger, hotter, and longer lasting fires have never "collapsed"
WTC Building 7, a 47-story high-rise not hit by an airplane, exhibited all the characteristics of classic controlled demolition with explosives:
In the the aftermath of WTC7's destruction, strong evidence of demolition using incendary devices was discovered:
FEMA finds rapid oxidation and intergranular melting on structural steel samples
Several tons of molten metal reported by numerous highly-qualified witnesses
Chemical signature of thermite (high tech incendiary) found in solidified molten metal, and dust samples
WTC7 exhibited none of the characteristics of destruction by fire, i.e.
Slow onset with large visible deformations
Asymmetrical collapse which follows the path of least resistance (laws of conservation of momentum would cause a falling, to the side most damaged by the fires)
Evidence of fire temperatures capable of softening steel
High-rise buildings with much larger, hotter, and longer lasting fires have never "collapsed".
So both the Twin Towers and WTC-7 displayed all of the characteristics of controlled demolition and none of those associated with a progressive fire induced collapse.
However just to keep things simple lets concede that the Twin Towers did collapse due to the fires caused by the plane crashes. This still leaves the "smoking gun" of 9.11 which is the collapse of WTC-7 which was not hit by a plane and only suffered limited fires before it collapsed at near freefall speed into its own footprint in the afternoon of 9.11. The following points explain just why the collapse of WTC-7 is so problematic for the official story of collapse by fire alone.
Evidence exists that the owner of the building, Larry Silverstein, wanted to bring the building down. Not only did he make the famous "pull it" comment in a documentary about the events of the day but a recent FOX hit piece on Jesse Ventura by ex Washington D.C. prosecutor Jeffrey Scott Shapiro reveals that during the day he was on the phone to his insurance company attempting to convince them that the building should be brought down via controlled demolition.
"I was working as a journalist for Gannett News at Ground Zero that day, and I remember very clearly what I saw and heard….Shortly before the building collapsed, several NYPD officers and Con-Edison workers told me that Larry Silverstein, the property developer of One World Financial Center was on the phone with his insurance carrier to see if they would authorize the controlled demolition of the building – since its foundation was already unstable and expected to fall."
Numerous witnesses have gone on the record to say they were told beforehand that WTC-7 was going to be brought down by a controlled demolition. These witnesses include:
Former Air Force Special Operations for Search and Rescue, Kevin McPadden, who said that he heard the last few seconds of the countdown on a nearby police radio.
Emergency Medical Technician Indira Singh who was told by the fire department that Building 7 was going to be brought down deliberately due to collateral damage.
Another EMT named Mike wrote in a letter to the Loose Change film crew that emergency responders were told Building 7 was about to be "pulled" and that a 20 second radio countdown preceded its collapse.
"There were bright flashes up and down the sides of Building 7, you could see them through the windows…and it collapsed. We all knew it was intentionally pulled… they told us," he stated.
Former NYPD officer Craig Bartmer who said that he heard demolition charges go off inside the building as it collapsed.
The non peer reviewed NIST report into the collapse of World Trade Center 7 is based on a computer model that they won't release the source code for. This computer model has been thoroughly rubbished by many people for not bearing any resemblance to the actual collapse of the building as it occurred and it relies on some dodgy programming that seems to have loaded the parameters to create the desired outcome.
They did this by excluding important parts of the building that they themselves admitted were present in an interim report as well as assuming no thermal conductivity of steel in their model which meant that only one part of steel re-enforced concrete was heated causing the thermal expansion that supposedly caused the collapse. This video explains why the computer model was flawed. The first video was removed so I had to get a recent backup.
However the major flaw in the NIST report into the collapse is that they had to admit that their report is not consistent with basic principles of physics due to a 2.25 second period during the collapse in which the building collapses at freefall speed for 100 ft. The only way this would be possible would be if all the floors beneath the top part of the building had been completed removed so that the roof had nothing to fall through apart from air!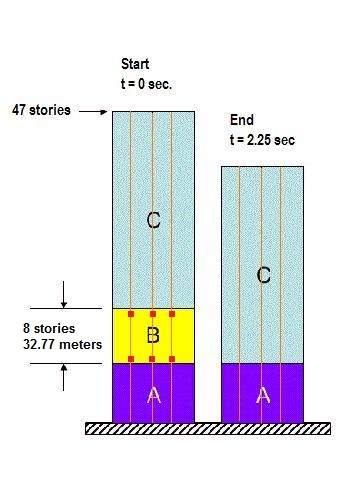 If WTC 7 is represented by three parts A, B and C, where part A is floors 0-6, part B is floors 6-14 (24 meters tall) and part C is floors 14-47 (see picture left), free fall of part C is only possible if, e.g. part B (or more!) is suddenly and totally removed! Then part C free falls on part A.
Free fall dropping upper part C of WTC 7 (above floor 14) does not apply any loads at all on the structure below floor 14 during this time!
NIST has been asked to explain what David Ray Griffin calls a miracle but cannot do so. Their official position regarding the cause of the collapse is totally inconsistent with physical evidence and the laws of physics which is an obvious problem.
The last point to remember is that a number of scientists have analysed the dust from the collapse of the World Trade Center and found evidence of high explosive materials. The following is taken from a lecture given by Richard Gage of Architects and Engineers for 911 Truth recently.
The energetic material that was found in the WTC dust by an international team of scientists (led by Niels Harrit of the University of Copenhagen in Denmark) was reported in the peer-reviewed Bentham Open Journal of Chemical Physics. It consists of nano-engineered iron oxide and aluminum particles 1000th the size of a human hair, embedded in another substance consisting of carbon, oxygen, and silicon. The sizes of the iron oxide particles are extremely uniform, and neither they nor the ultra-fine-grain aluminum platelets could possibly have been created by a natural process such as a gravitational collapse or the impact of jetliners. The red/gray chips in which these particles were found exhibit the same characteristics as advanced energetic materials developed in US national laboratories in the years leading up to 9/11.
Many people who follow the official line have tried to combat these studies by saying that the particles found within the dust were only by-products from the various office furnishings and other building materials. They have also claimed in a number of documentaries that the amount of Thermite / Thermate explosive required to bring down a building would be too large and would have required a large scale operation to install however numerous people have carried out their own experiments to show that this is not the case.
The following video is a good example of someone using physical science to back up the theory behind controlled demolition at the WTC.
As you can see not only did the collapse of WTC-7 look like and behave like a controlled demolition there is evidence to support this from witnesses, reporters, physical experiments and scientific analysis as well as the fact that the NIST version of events is total hogwash that cannot even follow the basic laws of physics.
Logic, reason and good science dictate that there is more than enough evidence for a controlled demolition of WTC-7 to warrant a proper investigation.
Remember if this building was brought down deliberately and not caused by secondary fires caused by falling debris from the Twin Towers then it means that we have been lied to on a massive scale. Not only has there been a huge cover up involving sections of the media and major government agencies but it also means that there is a lot more to the events of that day than we have been led to believe.
WTC-7 is the Ace of Spades sitting at the bottom of a house of cards that the official story is built out of. Once you take the blinkers off and look at the evidence surrounding WTC-7 objectively it becomes quite clear that the evidence points towards a controlled demolition.
We recently had a deathbed confession from a CIA agent who took part in the demolition process and he said that the demolitions looked "Too much like controlled demolitions" and thought people would start questioning it. You can read my article on it here
If we can prove that this one part of the story is based on a massive lie and cover-up then it takes a huge chunk out of the official story and opens up the whole sad event to proper scrutiny.
Surely you must agree?
By Dark Politricks
© 2018 Dark Politricks