Operation Gladio 2 – Ukraine and Syria, two techniques using the same methodology
By Dark Politricks
As Putin discusses invading the Ukraine to protect the Russian speaking, and ex Russian people, of the Crimea and Eastern Ukraine undoubtedly the western axis of war will start calling him a dictator, a Soviet-esque invader and much more besides.
However I don't see the US or NATO launching a war against Russia to protect the Ukraine.
They called Russia's bluff in Georgia in 2008 and the Russians proved they would defend their people no matter what.
It is hypocrisy of the highest order for John Kerry and President Obama to claim Russia are breaking international law by using spurious claims to invade another country when the USA has been the biggest perpetrator of such lies, falsehoods and crimes within the last 100 years.
We only have to look back at the Iraq war, one started over lies of WMD, and the hiding from the public that Saddam Hussein actually wanted to help the US and had even offered an precedented FBI presence in his country!
Before that we had the Afghanistan war after 9.11 all because the supposed perpetrator, Osama bin-Laden, who the FBI could never find enough proof to pin the crime on him, and who denied all involvement in the crime was not handed over to the Americans.
All the Taliban wanted was some kind of evidence, even a modicom of proof that he committed the attacks, and they promised they would hand him over. However the Americans decided war was a much better option and decided to bomb the Stan to dust looking for him, only to let him escape and then supposedly capture him in an allied country Pakistan 10 years later!
I could go on about the false flag attack in the Gulf of Tonkin to start the Vietnam war. Or the many other illegal wars the US or their ally Israel has started just because they felt international law didn't apply to them but I won't.
It is just sheer arrogance and hypocrisy of the highest level for US politicians to label Russia and Putin as meddlers in the Ukraine after they have been sticking their oar in and stirring up neo-nazi protesters for the last few months.
However , if you were Putin, what would you do regarding Ukraine?
If you were the Russian President, would you let the west use their neo-nazi nationalist thugs to other throw a legitimate government and take over a country right next to your border?
A country now run by nationalists and far right thugs and probably losing a key Russian port that they need on the Black Sea.
On top of that allowing millions of people who would rather be Russian than Ukrainian to possibly suffer under newly enacted laws.
After being invaded twice in the last 100 years and losing 20 million civilians and soldiers from a Nazi invasion, helped by Ukrainian Nazis, or should I say partisans as the west recently called them, would YOU allow a neo-nazi country on your border?
Do you see all the promises by the west who once the Soviet Empire fell promised to not encroach on Russian areas of influence being kept or broken by recent events?
From the Ukraine to Georgia, and then to all the multiple "stans" that now have US airbases. Russia is being encircled by the west and possible new NATO members.
The Ukrainian take over has been a standard play book "coup" by the CIA and their axis of war allies.
As I said in my last article there is no way in the world the USA would allow their police, politicians and government employees to be attacked in the way that Ukrainians have in recent months.
A few dead? No it would be thousands and there wouldn't even be a presence in Independence square. It would be a big pile of dead bodies.
So with all the colour revolutions sponsored by the west and our hypocritical backing of Islamists when it suits us such as in Syria, Kosovo and Libya, it seems that some grand plan is at play.
In the old day's it was called the "Grand Chessboard", and as Zbigniew Brzezinksi said in his book of the same name:
"Ever since the continents started interacting politically, some five hundred years ago, Eurasia has been the center of world power."

"It is imperative that no Eurasian challenger emerges capable of dominating Eurasia and thus of also challenging America."
See: Zbigniew Brzezinski - The Grand Chessboard 
For a detailed look at how the western powers use nationalists, neo-nazis and now Islamic extremists to other throw regions in this important area of natural resources to prevent Russia and China getting their hands on them you should take the time to listen to the famous 9/11 whistle blower Sibel Edmonds discuss Gladio 2 in the followin video series.
As the blurb on the first video says:
"In this ground-breaking interview, famed FBI whistleblower and Boiling Frogs Post founder Sibel Edmonds lays out the thread connecting NATO's Gladio operations to Turkish paramilitaries and ultra-nationalists, and how the operation continues through cooperation with terrorists and the Islamization of Central Asia and the Caucasus. From Abdullah Çatlı's remarkable life (and death) to the rise of Fethullah Gulen's $25 billion (CIA-supported) Islamic network to the NATO takeover of the Afghan poppy crop in the wake of 9/11, you won't want to miss a moment of this riveting conversation."
Sibel Edmonds answers your questions on Gladio B.

In this video Sibel Edmonds discusses the US/NATO roots of Chechen terrorism, and what the FSB's involvement in this twisted tale might mean in terms of future Russian-US relations.

And if you don't know who Sibel Edmonds is, she was the most gagged woman in US history after trying to expose US lies after 9/11.
She revealed that the CIA was in close contact with Al-Qaeda and bin-Laden right up until 9.11 and for her troubles she was given multiple security letters and gagged from telling her story. No mainstream US news network has, or ever will interview her. She is a persona non-grata.
If you have time please answer this poll, you can select up to 3 answers, on what we should do about Ukraine and Russia. It will be interesting to see what you think of the situation as it unfolds.
---
Can you imagine if Ukraine was the USA?
By Dark Politricks
Can you imagine if what was occurring in the Ukraine was happening in the USA or the UK?
Policeman killed by ultra nationalists and anti-Semite thugs being put into positions of power with the help of AIPAC bought and paid for US politicians such as John McCain?
It just goes to show how the US and Europe doesn't give a shit about using nationalist thugs and anti-semites to carry out their agenda when it means they can ebb away at Russian borders.
However at home, if you dare criticise Israel you are called an anti-semite and demonised- square than one if you please?
Here is proof of John McCain meeting ultra nationalist far right leaders in Kiev recently.
What right does a US politician have to enter another country and demand changes in leadership? Plus how does John McCain look at himself in the mirror when he defends Israel to his core yet is happy to make deals with anti-semites and neo-nazi's?

Here is John McCain in the Ukraine meeting (on his right) far right leader Oleh Tyahnybok in Independence Square in Kiev, Ukraine, Sunday, Dec. 15, 2013.
Can you imagine if Russian politicians turned up in Washington or London and stood with the BNP or Klu Klux Klan and demanded that the constitutionally elected President of the country stood down so that ultra nationalist thugs could take their place?
Here is one of the thugs John McCain and EU leaders want to put into positions of power threatening officials in their offices.
Aleksandr Muzychko a radical Ukrainian nationalist leader lashed out at a local prosecutor with obscene language, punches and threats claiming the prosecutors were "sabotaging" their job.
"Shut the f**k up, you b*tch! Your f**king time is over," he uttered, threatening to rope the clerk like a dog and lead him to the people on Maidan.
This "activist," is an ex Chechen fighter who fought against Russian troops and recently branded his Kalashnikov in front of regional authorities goading them and threatening them to "try to take it away from me".
He is also on record for making openly anti-Semitic statements as are many of the far right "protestors" who have been killing and beating policeman, shooting at politicians and rioting on a daily basis for months now.
Here are just a few photos of "demonstrators" attacking the Ukraine police.
If the US can pinch the noses of peaceful students sitting on the ground to spray pepper spray down their throats, then can can you imagine the response of US police if protesters sprayed pepper spray at THEM, or battered them as they are doing in the Ukraine by Occupy or Tea Party protesters? They would have been shot on the spot.
Here are US police pepper spraying peaceful students, sitting on the floor, causing no harm to anyone yet they are obviously a serious danger people's safety. Otherwise why would the cop feel the need to defend himself with a potentially deadly chemical.
And here is a "peaceful Ukrainian protestor" attacking Ukrainian police with pepper spray as they show immense restraint in the face of brutality by a nationalist thug.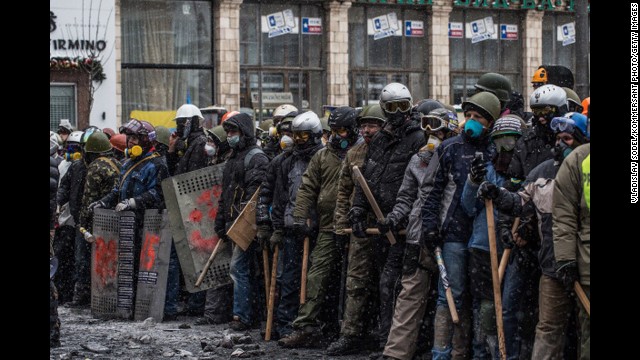 Now I am not saying that the Ukrainian president who is on the run and has just given a press conference on RT.com is perfect.
He banned protests and allowed policemen to kill many of the protesters. He has probably done even worse.
However he was legitimately elected and if the new method of installing a leader of a country is just to protest, riot, kill cops and force the current leaders to flee then why are we not doing it in the USA or UK?
Well obviously because this method is only  for the Empire to overthrow OTHER countries, democracy and elections only matter if the "right" people are elected. Just look at Palestine and Hamas, Iran or Iraq. Only people who will sell their souls to western ideals, and porn their countries assets to the IMF and World Bank are the "right kind of people".
No wonder the axis of evil contains those countries without western owned central banks. Only 10 years ago that list included Iraq and Libya, Afghanistan and Sudan. Now it's just Cuba, North Korea and Iran.
These new Western installed thugs, neo-nazis and police killers that the west has helped into power are choosing a much poorer deal from the EU that will see wages and benefits drop, the bread basket of Europe sold off and privatised along with key industries and higher gas and oil prices. Is the chance of joining a broke Europe worth all of that when the deal Russia was going to provide was billions better?
It is the same methodology of the Banksters which has been used to reduce Greece, Spain and Ireland to shreds. They don't care about human rights, not if they are willing to install neo-nazis and anti-semites into power.
No all they care about is encircling Russia, getting them into NATO and then extracting as much wealth from the Ukrainians pockets as possible. How do these Ukrainian EU lovers not see that?
Here is what Gorbachev says about the meddling of the US and Europe in the Ukraine.
The west promised not to encroach on Russian areas of influence when the Soviet Union split up but this promise was blatantly broken as soon as the USA realised they were the only super power and believed they could do as they pleased despite previous agreements.
First Georgia became a US proxy after a "colour" revolution, and with US/Israeli help they tested the Russian military when they killed Russian peace keepers and bombed innocent people's houses in the breakaway territory of South Ossetia during the start of the 2008 Chinese Olympics.
However Russia proved the west wrong and humiliated the Georgian and Israeli forces in this illegally started war and now half of South Ossetia is under Russian control. Not that the west sees it this way. In their eyes  it was Russia who attacked Georgia not the other way round. Oh how media lies are spread and believed by the willing.
The only good thing to come out of the war was that the west saw the Russians couldn't be pushed around beyond limits. There is a line that cannot be crossed!
The West then moved into the Caucuses and the "Stans", building air bases, using their proxy Islamic terrorists to stir up trouble and then invading Afghanistan to get soldiers on the doorstep of Russia. All that Lithium, Natural Gas an Oil to be taken from Russian areas of influence.
I'm sure the weakening of Russia was not even considered when the neo-cons were planning their own oil pipelines to rival the Russians bringing gas and oil to Europe and ports in the south.
It just amazes me that people like Catherine Ashton (EU) and John McCain, who are against nationalism at home are prepared to enter a sovereign country, talk to neo-nazis (people they would never talk to at home), and stir up trouble in a country they have no business being in.
If I was Putin, I would invade Ukraine right now, at least the eastern half and Crimea who wants to stay connected to Russia, and then see what balls the NATO agitators really have.
I cannot believe the US or Europe want to cause shit with Russia when they need their help with Syria and Iran so I doubt they would do anything if that happened apart from make loud noises and thump their chests.
However Putin can see his country being surrounded by the west (NATO) and from a historical perspective they are paranoid to the extreme about being attacked by the west. For some more context watch Oliver Stone's untold history of the United States. The Russians have been invaded so many times in recent years that during World War II the allies were willing to promise them a "buffer zone" to ease their worries about another attack from Germany or the west.
However as soon as Roosevelt died and Truman took over this Soviet buffer zone became the "Iron curtain" that Churchill famously spoke about in his 1946 speech.
This is despite the fact he had made a deal with Stalin, called the "Percentages Agreement" on a piece of paper that Stalin famously kept that split up their spoils of war, with Churchill agreeing to Stalin's demands for a buffer in return for UK demands for land in return.
Churchill even later admitted that Stalin had never ever broken his word and kept all his promises to him, and that it was in fact the US/UK that broke theirs. Stalin very much wanted the World War allied status to continue after Germany and Japan had been defeated. Alas it was not so.
Remember whilst the UK and US lost less than a million men in World War II, Russia lost over 20 million! Whatever you are taught in school about World War II, the US/UK did not win the war in Europe, Russia did.
They beat us to Berlin and they destroyed the majority of the German army. As we were fighting a few German divisions the Russians were fighting hundreds.
Also they were invaded by the Germans twice in the 20th century (World War I and II) and before that by Napoleon.
There is a saying in Russia, "give a German a gun and before long they will turn it at Russia".
If you don't know your history then you should note that when Germany invaded the Ukraine in WWII, many Ukrainians treated them as liberators and even joined their ranks to fight the Soviets. There is a reason so many neo-nazis exist in that region and the Russians have a right to fear it.
If the west is so keen to allow neo-nazis to take power in a state that they want to join NATO and the EU then we must ask ourselves, are we becoming a fascist empire or do we just have no morals when it comes to taking over countries by any means necessary.
For more info read about Gladio 2 (Sibel Edmonds) and how the US used nationalists to other throw regimes in the 80′s and 90′s and then changed to Islamic extremists when it suited them (al-Qaeda, al-Nusra Front etc). It might help explain why the current axis of war (US/UK/France) switch from nationalists to religious fighters depending on the state they are trying to other throw.
This is the first part of the 5 part series with James Corbett. For the others go to this youtube.com link.
Whatever happens in Ukraine I just wish that the US and Europe would stop meddling and let the people decide for themselves without letting neo-nazis and extremists pull the strings.
Like Gorbachev says, I hope someone will use a bulldozer and remove all the meddling Western instigators that have caused so much trouble in that country.
If no-one does that we will soon see the bread basket of Europe become a pauper like Greece as banksters from Goldman Sachs, JP Morgan and the IMF run off with big bags of swag over their shoulders.
IMF Banksters will undoubtably run off with Ukrainian swag as the people of the country become paupers
---
Bounty Killer, if you want to see some corporate thieves get their heads blown off…..
By Dark Politricks
I just watched a nice film for a Sunday afternoon. It's not exactly Oscar-winning material but it's worth watching if you feel like we are getting nowhere in stopping global corporations controlling the world and a bankster run society.
It's a film called Bounty Killer which has recently come out on DVD (2013) and if you want to get some fantasy revenge on the white collar, bankster, corporate elites that are ruining our world then this film could be just for you.
As the blurb says…
It's been 20 years since the corporations took over the world's governments. Their thirst for power and profits led to the corporate wars, a fierce global battle that laid waste to society as we know it. Born from the ash, the Council of Nine rose as a new law and order for this dark age.

To avenge the corporations' reckless destruction, the Council issues death warrants for all white-collar criminals. Their hunter's – the BOUNTY KILLER.

From amateur savage to graceful assassin, the BOUNTY KILLER'S now compete for body count, fame and a fat stack of cash. They're ending the plague of corporate greed by exterminating the self-serving CEO and providing the survivors of the apocalypse with retribution.

These are the new heroes.

This is the age of the BOUNTY KILLER.
The film reminds me a lot of Mad Max, with a cartoonish edge (i.e Sin City), and it contains a lot of blood and gore. However the shots of heads being cut open by axes or blown off with guns are done in an almost comical way so I wouldn't say anyone would be cringing or covering their face like a horror film.
In fact in a lot of scenes I was laughing out load when corporate suits had their head chopped off with various instruments including a company logo. Plus there is nothing more enjoyable than watching a lady in a sexy outfit and kinky boots kick open a suit's head with the spurs on her heels in a comical fight sequence.
It's probably a sign of things to come and no doubt the directors and writers had the thought of our current global situation in their heads as they wrote the script.
So before the storyline of Bounty Killer becomes a reality and we do end up in a Mad Max like world where the corporations literally do rule the earth have a laugh and get some imaginary revenge now. There is nothing like some fantasy violence where the baddies are actually our real life enemies of the people instead of make-believe James Bond-esque Russian spies or Trolls and Wizards from the world of Middle Earth.
So if your stuck indoors whilst the weather outside is rain, wind and darkness then this film might brighten up your day.
Here is a preview.
Now I don't want to encourage anyone to download copyrighted material as I'd like independent and anti-establishment films to flourish and to do that they need money. So if you want to buy a copy of the DVD you can get it delivered within a couple of days from Amazon now or Play.com here.
However for those of you who are anti establishment to the core, here is a link a guide on using the PirateBay Proxy Browser which may help you find content if you ISP is blocking you.
A guide to using the PirateBay and the PirateBay Proxy Browser.
Once up and running just search for Bounty Killer.
---
A Video Compilation Of 9/11 Witness Testimony To Explosives Being Used At WTC-7
By Dark Politricks
These are some very good videos which sceptics and believers of the official conspiracy story on 9/11 and what brought down the Twin Towers should watch.
Why?
Well the videos contain numerous clips of TV footage from the day of the attacks which are hard to find nowadays.
This TV footage from mainstream channels shows numerous witnesses and TV commentators saying how they heard bombs and explosives go off all throughout the day.
What is very illuminating is how on the day of the event even the mainstream media were willing to ask questions about explosives, controlled demolitions and even drones or military aircraft being flown into the buildings. It's such a shame that they are all now towing the party line and keeping quiet about what they know happened that day.
From Firemen to Policemen and reporters to office workers, there are numerous witnesses who on the day of the attacks claim to have been in various parts of the WTC when they either saw, heard, or were injured by explosions that happened BEFORE the Towers fell.
This includes the smashed up lobby of one of the towers which is seen on camera and in which people died before the collapse. The official story explains this event by claiming fire from the planes shot down the elevator from the impact site.
This is despite the fact that the elevators were hermetically sealed which would have prevented this from occurring. Also whilst perfectly unharmed people are seen on camera in the holes near the plane impact zones where the explosion should have been most severe, other people were being killed, burned and thrown all over the place hundreds of floors away at the bottom of the towers.
There is also enough live video footage to rubbish claims that no loud bangs, explosions or cutter charge like sounds were heard on the day.
Numerous clips will show you how loud the explosions were and how similar they were to demolition explosives as well as dozens of witnesses who talk about leaving the scene as "bombs are still in the building".
The videos also explain how easy it would be for a small team of people to plant enough explosives near the cores of the Twin Towers without:
Being spotted by witnesses.
Taking a long time as skeptics claim.
And using only a dozen or so small inconspicuous boxes containing high-grade military explosives.
By planting these high explosives on every second floor and using programmed timers it would be very easy to demolish the central core of the WTC and stage what looked like a pancake collapse.
The maths is pretty simple and the power outs in the days leading up to 9/11 would have provided these conspirators with enough time and cover to carry out their job without being spotted.
Not only were the bomb sniffing dogs pulled out of the towers before the attacks but CIA 9.11 whistleblower Susan Lindaur, who was one of the first people arrested under the PATRIOT Attack for trying to tell her story, explains how in the run up to the attacks vans and men carrying tools and equipment would visit the towers every night for days in a row between 3-5 am in the morning when no other staff were present.
The blackouts gave the cover that engineers needed to do work as well as enabling CCTV to be off at the time needed to plant the explosives. A small team could have planted enough bombs to demolish both towers within 24 hours.
How they could have easily rigged the WTC Towers for demolition
The videos also show some clips I personally haven't seen until now including a shot of WTC-7 before it fell and what looks like cutter charges going off all across the building.
You can actually see small flashes of light dot from window to window from the right to left of the building and this would have been required for WTC-7 to fall into its own footprint the way it did.
No sporadic fires could have caused such an evenly and well-timed collapse including the 2+ seconds of free fall. Even the company NIST asked to carry out various experiments trying to prove how the buildings fell could not replicate a collapse scenario. This meant NIST had to rely on computer models and unrealistic parameters, including missing building parts, to explain how a single point of failure caused what looks like a demolition sequence in WTC-7.
Just like the video of the collapse of WTC-7 which shows the Penthouse of the building dipping before the rest of the structure the same goes for the Twin Towers. You can see the highest points of the towers, the aerials and other equipment on top of the tower's core dip before the rest of the building starts to collapse. This all indicates that the central columns had been removed first.
For people who haven't seen the structure of WTC and think a plane and office fires could have demolished it's huge central core think again.
The way the building was built meant that even if the trusses and other supporting columns and beams were weakened by fire or a plane the central core would remain intact. The sides of the building may have toppled or slowly fallen off bit by bit but there is no way a fire could have caused the huge central core to be crushed and pulverized into dust as it was.
The explosive nature of the collapse was so intense that steel and other materials were melded together and fires burnt underground for ages during the clean up process. A normal fire would not do this.
Pictures of the WTC Twin Towers Design and Central Core
The videos also show clips of other buildings that were hit by debris from WTC, including buildings where huge steel girders were embedded into their walls after being shot out sideways from the collapse.
How a fire could have caused enough pressure to do this I don't know but these other buildings didn't catch fire and then have a free fall like collapse as WTC-7 did.
Therefore it is very odd how WTC-7 acted in the way it did when many other buildings were hit by the falling debris from WTC. The official story claims a single point of failure caused what looks like a perfect demolition sequence however even NIST cannot explain how the building fell for over 2 seconds at free fall speeds.
What explosives were used to destroy the Twin Towers
The numerous interviews with witnesses and bystanders from the day also talk about the military looking planes that hit the buildings.
There are multiple witnesses who saw the planes and detail how they were grey or very dark, and didn't look anything like the red and blue American Airlines aircraft that supposedly hit the Twin Towers.
Remember that even back in the 60′s certain people in the Military and US government (Operation Northwoods) thought it was a good idea to stage a false flag attack and blame it on Cuba. They wanted to fly planes automatically, send out fake distress calls claiming they had been hijacked by Cubans, and then crash the aircraft.
All this so that the US public would believe Cuba was at fault and therefore legitimizing a war of aggression against the island.
If the US could consider such a false flag attack like that back in the 60′s then imagine what automated chaos they could instigate with modern technology?
Military Planes Used To Hit The Twin Towers
In the following video CIA whistle-blower, Susan Lindaur, gives a speech where she explains the war with Iraq wasn't necessary and that before 9.11 Iraq was actually bending over backwards to help the USA.
They even offered to provide the US Government with everything they wanted which negated any need for an armed conflict. She claims her back channel mission between the US and Iraq had provided a lucrative and unexpected bounty of gifts which has been kept secret from the US population.
This included:
Allowing the weapons inspectors into the country.
An unprecedented FBI presence in the country to help hunt down terrorists.
Lucrative oil deals and commercial contracts with US car companies.
And even Saddam Hussein offering to stand down and hold free elections.
She also talks about her reasons for believing that both hijacked planes AND explosives were used to bring down the Twin Towers, the planes being a cover story for the demolition job.
It is well worth listening to the story of a 9.11 whistleblower who tried to tell her story to the US government but was instead jailed for a year under the nefariously named PATRIOT ACT.
As I say in my article 9.11 Sceptics versus logic and reasoning, what we desperately need is a full criminal investigation with subpoena power into the events of 9.11.
Although much of the physical evidence has been destroyed a lot hasn't and many witnesses and conspirators are still walking around freely.
Obama never brought the change the USA required after the criminal Bush administration, therefore only a real concerted push by the people can bring around REAL change.
It's either that or you continue to stick your heads in the sand.
Know your place.
Do NOT ask questions.
Keep quiet and suffer in silence as the war on terror is used to justify a massive crack down on civil liberties and the building of a new high-tech police state.
Be monitored 24/7 and treated like criminals at airports.
Act like sheep on a slow walk to the slaughter-house.
Or you can choose to stand up for what you know is wrong.
Fight the lies we are constantly being fed by our Government and their bought off media whores.
Ask questions and don't accept the official line.
Do something worthwhile with your life whilst you still can.
It's way past the time to make a decision.
Further reading:
9.11 Sceptics versus logic and reasoning
9.11 Remaining Questions and no answers
The 9/11 Passenger Paradox: What happened to Flight 93
Video shows a missile hitting the Pentagon
Is The Pentagon Attack Finally Solved
---
A reply from my MP about Clare's Law
By Dark Politricks
If you had read my original article on the policy nicknamed Clare's Law, which the Government calls Ending violence against women and girls in the UK it has some laudable aims, such as:
introducing new legislation to make forced marriage a criminal offence in England and Wales.
widening the definition of domestic violence and abuse following a public consultation, to include coercive control and to cover 16 and 17 year olds.
publishing a pocket-sized statement opposing female genital mutilation for girls and women to carry when abroad, explaining the law and potential criminal penalties.
running the 'This is abuse'campaign to prevent teenagers from becoming victims and perpetrators of violence, abuse, controlling behaviour and sexual abuse.
providing protection for victims of stalking by introducing 2 new specific criminal offences, along with additional related police search powers and training for police and prosecutors.
However it initially worried me because the policy known as "Clare's Law", or "Ending violence against women and girls in the UK" doesn't mention men at all.
This is important as in the UK men make up 40% of the domestic abuse victims (from the Government's own studies), and the mainstream news reporting of this new policy has never even suggested that men would even be considered as anything apart from abusers or perpetrators of domestic violence, lest alone victims.
Also the Governments has run a trial of "Clare's Law", and it allows for the Police to give out information on a partners criminal record, cautions, telling off's or even just a suspicion that a crime has been committed. This seems to me to be against the concept that all of us are equal under the eyes of the law and that you are NOT guilty until convicted in a court of law.
Anything that allows for the Police to become Judge and Juror when it comes to "protecting" society worries me.
It is the concept of Judge Dredd and Robocop wherein futuristic cops decide on the spot your fate  from their own bias and perspective. No need for courts in 2014 England and Wales.
However after months of waiting after my initial letter to my local MP I finally got a response from the Minister of Crime Prevention.
First a good point.
The Domestic Violence Disclosure Scheme will be gender-netrual and will apply to both men and women. So at least any male victims of abuse can have the same rights to peer into their partners pasts as females.
Let me state clearly. I have no problem with real domestic abusers being stopped in any way possible. Men who batter women are utter bullies, cowards and wimps. They deserve anything they get in terms of punishment. The same goes the other way round.
Also those points at the top of the article that I listed from the Governments policy are all laudable and worthy aims.
Forced marriages and genital mutilation in this western liberal nation should have no place and I hope this will apply to men as well.
There are many young boys who are circumcised against their own will at a young age and religious doctrine from thousands of years ago should not trump the rights of any male to keep their full equipment until they can decide on their own what they want to do with it.
Also there is a process that the police must go through which you can read at the Government's website. They must inform the person inquiring about their partner that they could be charged under Section 5(2) of the Criminal Law Act 1967 if they are making a malicious application. I was worried that it would be easy for someone to claim they were going out with someone they weren't and get information they were not entititled to.
The police have to go through a process to prove that the inquiring claimant has links to the person they are asking about so that any old ex girlfriend or person with a grudge cannot find out your whole criminal history on a whim.
However what worries me is the document I was sent a link to read.
This followed a sentence that seemed logical seeing that no new laws are going to be passed for this disclose scheme to take effect.
"Information may only be disclosed to an applicant under the Domestic Violence Disclose Scheme if it is lawful, necessary and proportionate to do so. These legal principles which underpin the Domestic Violence Disclose Scheme were extensively tested during a one year pilot and provide the necessary safeguards to prevent spurious applications from succeeding and/or inaccurate information from being disclosed."
The policy document which was supposed to appease me can be found here: Domestic violence disclose scheme guidance.
It is quite long but I will summarise it here.
It starts off with some logic and sense:
The Domestic Violence Disclosure Scheme has NOT introduced any new legislation.
Therefore, any disclosure must be within the existing legal framework and, in particular, have due regard to established case-law, the Human Rights Act 1998, the Data Protection Act 1998 and the Rehabilitation of Offenders Act 1974. Further guidance on this is given under the heading "Principles underpinning the Domestic Violence Disclosure Scheme".
These principles also state that:
At all times, the ability to both share and disclose information must be considered on a case-by-case basis to determine whether the sharing and disclosure of information is lawful, necessary and proportionate.
However as with most things the problems are in the detail. Not to far down I read this.
The Disclosure Scheme is focussed on disclosure and risk management where B is identified as having convictions (including cautions, reprimands and final warnings) for violent offences;  and/or information held about B's behaviour which reasonably lead the police and other safeguarding agencies to believe that B poses a risk of harm to A.
So these violent offences (wait for it) that the person must have committed could have been of a nature that doesn't necessarily involve a person of the opposite sex.
E.G if I had a fight with another man over something a long time ago, or I was arrested for protecting someone from being beaten by the police. This ALL counts.
Also notice how (cautions, reprimands and final warnings) are included.
Surely if you were really violent then you would be arrested, charged and convicted. Not just given a telling off or warning by a policeman?
Who is to say the policeman got the situation right. Maybe a man had just hit your girlfriend and you went to defend her but the policeman only saw you hitting the initial attacker. A caution or telling off in that sense would be invalid and incorrect – in my eyes anyway. This is why we have courts.
Also the list of offences which are seen to be "violent" include a long list of very non violent offences.
In fact many men (and women) in England and Wales could probably pick one or two offences from the list whether or not they were charged or convicted for them that they may have committed during their lifetime at one stage or another.
The list of violent crimes which can be considered by the Police when they weigh up whether to inform the partner or not are below, BUT please note that it says this list is non-exhaustive, so many more crimes unrelated to domestic abuse could be included.
If you are reading the document go to Annex A to find them. They are titled:
Annex A – Non-exhaustive list of offences where convictions and/or allegations may be disclosed under the Domestic Violence Disclosure Scheme.
The following list sets out the offences where a conviction or allegation may be disclosed under the Domestic Violence Disclosure Scheme.
The list is non-exhaustive and is intended to act as a guide to the types of offences that may be disclosed.
Under the Offences against the Person Act 1861:
section 4 (soliciting murder)
section 16 (threats to kill).
section 18 (wounding with intent to cause grievous bodily harm).
section 20 (malicious wounding).
section 21 (attempting to choke, suffocate or strangle in order to commit or assist in committing an indictable offence).
section 23 (maliciously administering poison etc.  so as to endanger life or inflict grievous bodily harm).
section 28 (causing bodily injury by explosives).
section 29 (using explosives etc. with intent to do grievous bodily harm).
section 30 (placing explosives with intent to do bodily injury).
section 31 (setting spring guns etc. with intent to do grievous bodily harm).
section 35 (injuring persons by furious driving).
section 38 (assault with intent to resist arrest).
section 47 (assault occasioning actual bodily harm).
Under the Public Order Act 1986
section 1 (riot).
section 2 (violent disorder).
section 3 (affray).
section 4 (fear or provocation of violence)
section 4A (intentional harassment, alarm or distress)
section 5 (harassment, alarm or distress)
-Under the Protection from Harassment Act 1997
section 2 (offence of harassment)
section 4 (putting people in fear of violence)
Under the Explosive Substances Act 1883:
section 2 (causing explosion likely to endanger life or property).
section 3 (attempt to cause explosion, or making or keeping explosive with intent to endanger life or property).
Under the Children and Young Persons Act 1933
section 1 (cruelty to children)
Under the Firearms Act 1968
section 16 (possession of firearm with intent to endanger life)
section 16A (possession of firearm with intent to cause fear of violence)
Under the Theft Act 1968:
section 7 (theft)
section 8 (robbery or assault with intent to rob)

section 9 (burglary with intent to inflict grievous bodily harm) 

section 10 (aggravated burglary) 

section 21 (blackmail) 
Under the Criminal Damage Act 1971
section 1 (arson)
section 1(2) (destroying or damaging property) other than an offence of arson.
Under the Criminal Law Act 1977
section 6 (violence for securing entry)
Under the Criminal Attempts Act 1981
section 1 (attempting to commit an offence)
Under the Child Abduction Act 1984
section 1 (offence of abduction of child by parent etc.)
section 2 (offence of abduction of child by other persons)
Under the Criminal Justice and Public Order Act 1994
section 51 (intimidation, etc., of witnesses, jurors and others)
Under the Crime and Disorder Act 1998
section 29 (racially or religiously aggravated assaults).
section 31 (racially or religiously aggravated public order offences)
section 31 (racially or religiously aggravated harassment)
Under the Domestic Violence, Crime and Victims Act 2004
section 5 (causing or allowing the death of a child or vulnerable adult)
Under the Sexual Offences Act 2003:
section 1 (rape).
section 2 (assault by penetration).
section 3 (sexual assault).
section 4 (causing a person to engage in sexual activity without consent).
section 5 (rape of a child under 13).
section 6 (assault of a child under 13 by penetration).
section 7 (sexual assault of a child under 13).
section 8 (causing or inciting a child under 13 to engage in sexual activity).
section 9 (sexual activity with a child).
section 10 (causing or inciting a child to engage in sexual activity).
section 11 (engaging in sexual activity in the presence of a child).
Under the Asylum and Immigration (Treatment of Claimants etc.) Act 2004
section 4 (trafficking people for exploitation)
Quite a lot of crimes there and of course that list is non exhaustive!
Of course rape, child abuse, trafficking sex workers, racially or religiously aggravated assaults and other crimes in that list are OR could be related to domestic abuse.
However what has theft got to do with domestic violence?
Unless you were always stealing from your ex or forcing her to give you her wages? What if I was a stupid teenager cautioned for theft of something from a shop. Or I used to steal hubcaps from cars or bikes as a kid?
What has public order acts such as swearing in public (Section 5) got to do with domestic violence if the person isn't swearing at their partner?
I can understand child abuse, rape, battering your partner or other violent offences that INCLUDE your partner at the time but if the crime does NOT involve your partner of the time and is not sexual assault or assault against kids or other kinds of perversion then how can the Police link it to domestic violence?
I guess the idea is to give enough scope for the Police to find areas where the crime DOES involve your partner. All good IF that is how the new policy is rolled out AND the police keep to it.
I think many English or Welsh people could randomly poke a finger anywhere from the Public Order act to the Offences against the Person Act and find something they may have been CAUTIONED for, let alone charged and convicted.
Lets remember tellings off count here, not just convictions in a court of law.
So if you have been unlucky enough to have been taken to court due to a sensitive Police officer who was upset you swore at him when you were a drunk and stupid, e.g Section 5 of the Public Order Act – Causing Alarm or distress, or you were "attempting to commit an offence", which basically means you didn't actually get to carry out the crime, which could be anything, and not a crime covered in this list of offences, but were stopped before hand. This all counts under the new policy it seems.
Why? What if you were going to take a piss against a tree?
You could in theory be arrested (OR not) for anything from drunk and disorderly, exposure, Section 5 of the Public Order Act to outraging public decency depending on the circumstances and the Policeman in question.
What if the policeman stopped you before you committed whatever criminal offence he was going to arrest your for. This would be covered by the "attempting to commit an offence" clause of the list of crimes that the Police can use when deciding if you are a domestic abuser.
Obviously I am using extreme examples here but this is the problem with a lot of Government law and policies.
If it is not explicitly stated that the offences have to involve a current partner at the time of the offence, which I can see no mention of, then it can be abused.
The problem is that we are leaving it up to Police officers and not courts to make important decisions that could affect or even ruin lives.
They do detail how a "decision" is made however, which in the document they call Categorising a "concern" or a "no concern".
A "concern" occurs if A is at risk of harm from B, based on a balanced profile of B that takes into account the following factors:

a. B has convictions for an offence related to domestic violence (see annex A for list of offences) that may be disclosed under the terms of the Rehabilitation of Offenders Act 1974;

and/or

b. B is a serial perpetrator of domestic violence;

and/or

c. there is intelligence known about the previous violent offending of B which may include:
i. cases not proceeded with; and/or
ii. intelligence concerning violent offences; and/or
iii. previous concerning behaviour towards previous partners. This may include a pattern of behaviours that B has exercised coercive control over previous partners. Note: the police may consider the impact of a spent conviction when conducting a risk assessment on A, regardless of the fact that the spent conviction can not then be disclosed.

and/or

d. there is concerning behaviour by B demonstrated towards A. This may include a pattern of behaviours that indicate that B is exercising coercive control over A.

If a "concern" occurs, the police must consider if representations should be sought from B to ensure that the police have all necessary information to make a decision in relation to disclosure. As part of this consideration, the police must also consider whether there are good reasons not to seek a representation, such as the need to disclose information in an emergency or seeking the representation might put A at risk.
So there is plenty room for manoeuvre by the police there when it comes to picking and chosing whether or not to disclose "spent" offences. Remember those are crimes you may have committed when young and have paid for a long time ago and after a certain period of sufficient time that is appropriate to the seriousness of the crime has been spent.
Also count the number of "or's" in that list. Not ALL of the points have to be true for the "concern" to be valid.
So the Government feels that this policy document provides enough safe guards against innocent people being caught up and their relationships ruined unnecessarily.
However I fear this is going to cause a lot of trouble for a lot of people, especially if the police have a vindictive nature, and from my own experience I know some of them blatantly do.
You can read my well read page on "a guide to no comment police interviews" and the comment section for a number of examples from me and other people who have had the police decide their fate on one or more occassions.
Are you reassured by this document and response from the UK Government?
Yes they will take into consideration the Rehabilitation of Offenders Act and Data Protection Act but it seems they can override it if they feel it's necessary.
One good thing is that there seems to be at least some safeguards to prevent malicious people just turning up at the cop shop and getting your full criminal record straight away.
There are processes and procedures……
However the long list of criminal offences that seem to be unrelated to domestic abuse concerns me a lot and it should concern you as well. Especially if you haven't always led a blemish free life away from the criminal justice system.
Remember to contact your MP if you feel that this new "policy" could cause you potential problems.
---