Why Was Russell Brand attacked for linking British Foreign Policy to Terrorism?
www.darkpolitricks.com
By Dark Politricks
Whilst I have the utmost respect for all the British and other victims of
the Terrorist attack in Tunisia last week,
I think the attack on Russell Brands podcast on today's minute of silence as
"Total Bullshit"
, was a
"Total Smokescreen"
when you really listen to what he said.
If you forget the maybe crass way he says it and actually listen to what he says later on, he makes many good points about British Foreign Policy and how it has contributed to the rise of
ISIS
in the first place.
As
David Cameron
discusses extending his
bombing
campaign on
ISIS
from
just Iraq to targets over the border in Syria
we must remember the simple fact that no war has ever been won by just
bombing
from the air.
If we want to create more terrorists then yes, the plan will work. Bombs are indiscriminate no matter how much the Government and Armed Forces tell you otherwise.
We didn't win
the war in Libya
from our
bombing
campaign. It was the rebels on the ground that took advantage of our air support to defeat Gaddafi and
turn Libya into the civil war mess it now is.
Libya is now place where the "official government"
has to meet on a ship at sea to protect it from attack
.
Where thousands of people every day try to escape its shores by
paying criminals to take them in dangerous boats to Europe
, and where we wash our hands of them.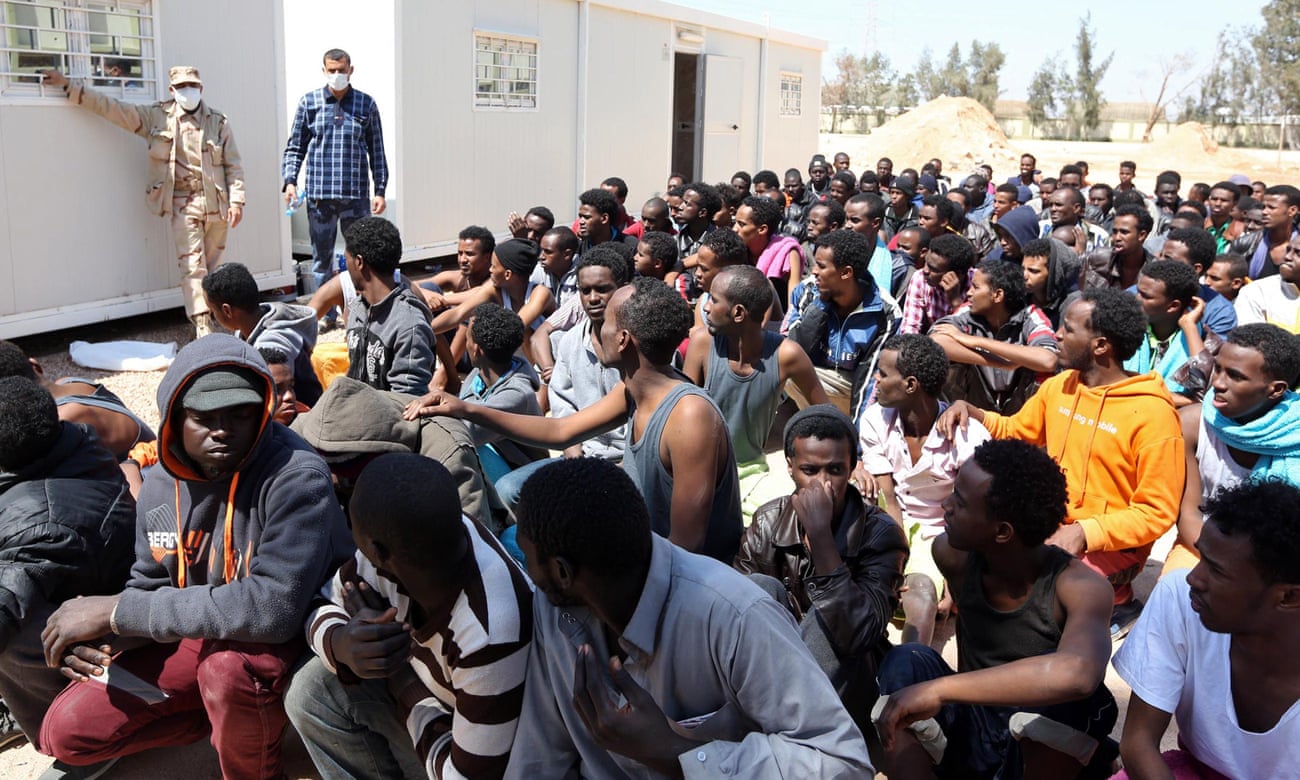 Libyan refugees risk death to flee their war-torn country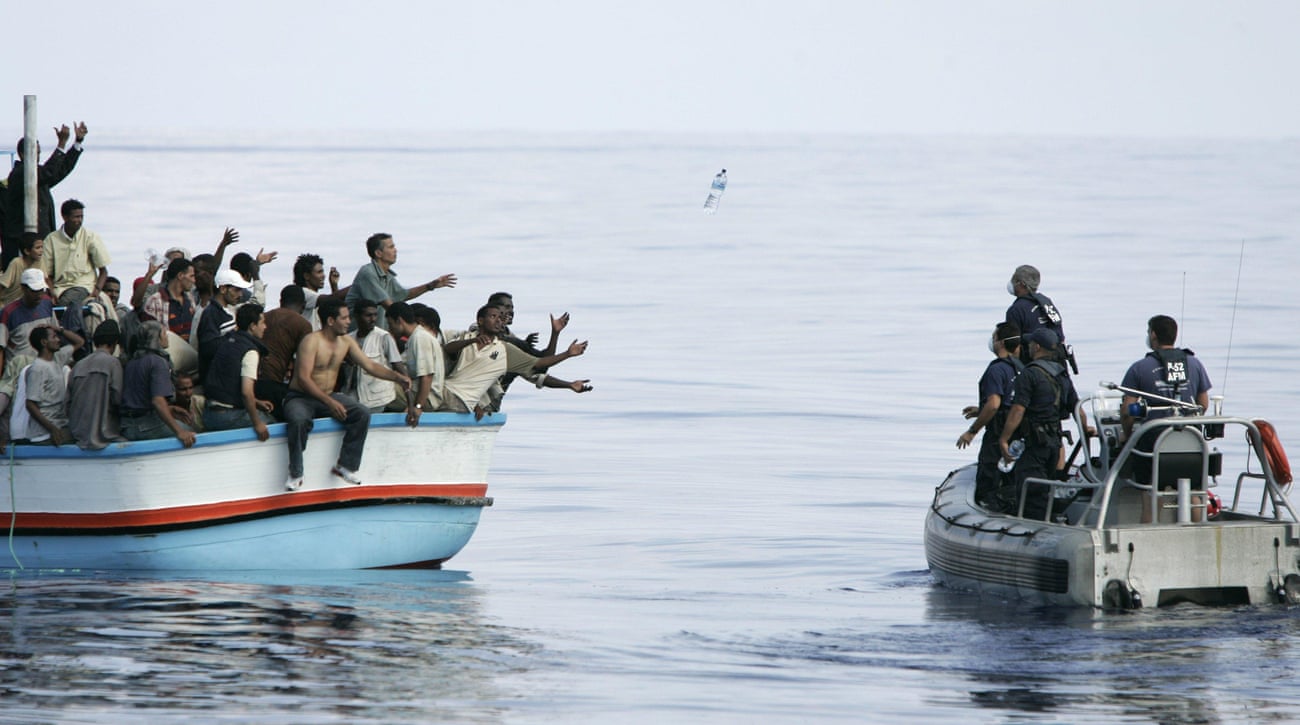 People smugglers take advantage of desperate people in the Mediterranean
Doesn't seem fair does it?
We destroy what once one of the most prosperous countries in
Africa
because we decided to support one side in a civil war after years of supporting al-Qaeda linked, anti Gaddafi terrorists, before making up with Gaddafi at Blairs famous meeting with the Colonel in the desert.
This was when normal relations resumed e.g arms sales in return for
the Lockerbie suspects being handed
over to face trial in Scotland and our oil companies being able to milk the countries reserves.
Then we decided to turn about-face, despite
Gaddafi helping the CIA/MI6 with their black site torture prisons
, and take him out of the picture.
Maybe he was just too much of a threat having talked about an African union, no central bank control and a shared Gold backed currency for the region.
Did you know that when
Colonel Gaddafi took over Libya in 1967
it was one of the poorest nations in Africa
but by the time he was killed by NATO and it's goons on the ground, Gaddafi had turned Libya into Africa's wealthiest nation.
It had the highest life expectancy and GDP per capita on the continent. I bet you didn't even realise that fewer people lived below the poverty line in Libya than in the Netherlands!
People in pre NATO Libya could count on free education, free health care, a free home upon getting married, oil being shared out amongst the people and no central bank run by the same bankster cartel we all know and love.
Gaddafi even wanted to unite
Africa
under a single currency, a bit like the Euro, except it would be backed by Gold and therefore worth the paper it was written on.
We all know what happened to the last 3 US Presidents who tried going against the
Banksters
and their central banks, the same fate fell Gaddafi as did JFK. Was this a coincidence or just bad luck?
Whatever the reason was, Libya fell apart was due to NATO suddenly going from an ally in the fight against the war on terror - even sending Gitmo destined prisoners there to be tortured, to a terrorist backer. They provided the air cover and bombs that destroyed Libyan infrastructure before allowing their NATO armed terrorists on the ground to put a bullet in his head.
The country is now a mess and not a good advert for British intervention. The fact we are now trying to wash our hands of the mess we have caused by preventing refugees from Libya reaching Britain doesn't exactly say much about our leaders humanitarian nature.
A victim of the Tunisian beach attack is flown home today to RAF Brize Norton
So what about the ISIS terrorist who killed British terrorists?
Seifeddine Rezgui posing with weapons for ISIS
Yes of course it was a horrible disgusting evil act when an
ISIS
inspired student gunman, Seifeddine Rezgui, took it upon himself to
kill 38 people in Tunisia including 30 British tourists.
This was a student who received military training in the war-torn country we helped to destroy, Libya, before taking it upon himself to kill and maim dozens of British and other Europeans on the beach of a holiday resort during the supposedly peaceful Islamic holiday of
Ramadan
.
ISIS has taken over from al-Qaeda as the big bogey man we should all be looking under our beds each night.
Islamic State are the most well-funded, well-equipped terrorist force on the planet and as their name states, Islamic State, they DO actually have a constantly expanding border that ignores previous Middle Eastern lines that were drawn across the borders of Iraq and Syria.
So while
David Cameron puts forward plans to bomb Syria
, and the
Tories line up legislation to remove more of our civil rights
, I bet that a huge proportion of Daily Mail readers will support such
"Thought Police"
laws and be all too willing to denounce any opponents as
domestic extremists.
So with all these new laws and previous military action carried out in the region w e should really ask the question that no Tory/Labour politician seems to want to answer -
have we helped create this monster?
Whilst they may claim otherwise the answer is YES.
Yes Islamic terrorist acts occurred before 9.11 but they were mainly all due to the never-ending issue of Israel / Palestine.
If only the USA could pull its finger out its ass,
stop AIPAC owned Congressmen from railroading any attempt at a fair solution
and put pressure on Israel to come to a negotiated settlement
that doesn't humiliate the Palestinians
and
adheres to International Law.
This form of law is supposed to be respected by all countries, and it was mainly created after World War II to punish the Germans for their treatment of the Jews, plus their illegal wars. Remember after Nuremberg it was decreed that the worst crime a state could commit was a war of aggression (a pre-emptive war you could say).
Yet how many pre-emptive wars have the Axis of War started since then?
Just in the last few decades
(the Taliban did not commit 9.11 no matter how far you stretch the official story)
, and not to mention all the other underhand wars by proxy or through the use of false flag attacks to give cover such as Vietnam in earlier years.
Don't you think it hypocritical that the Jewish People, who through their Nuremberg judges had many Nazis and Germans put to death for
"following orders"
but are now killing Palestinians en mass whenever they invade
Gaza
(
as even the Zionist Judge Goldstone reported on
).
Plus the US seems fine about opting out of
the International Criminal Court
and allowing its own soldiers to commit acts of torture on command, sometimes
as MI5/MI6 officers stand around watching
, as British citizens are beaten and tortured by their CIA counterparts for refusing to answer the British Security Forces questions.
To say our foreign policy has no part to play in the radicalization of a large number of disaffected Muslims is to ignore a major component in solving the problem. Does our government really just think these people kill us for no other reason than they
"hate our dwindling freedoms"
or that they just want to reach paradise?
If it's our freedoms they hate then that argument will soon no longer exist as we seem to be very busy handing them over on a plate. In the not too distant future even this bogus reason drummed out by FOX and other mainstream media companies won't be valid.
From our rights to protest, to our right to surf the Internet in peace without being monitored and logged to our right to free speech, our civil liberties are being demolished chunk by chunk.
If the Tories get their way we could all be
labelled domestic extremists if you dare speak your mind
and it doesn't fit with the Government line on a subject. Want to talk to your girlfriend in peace without anyone spying in on your saucy chat by using an encrypted chat service, well you must have something to hide under new plans by the Conservative government. Only terrorists use encryption don't you know?
As Russell Brand says in his podcast the minute silence held on Friday was a way for the Government to act as if it cared about the dead holiday makers whilst it continued to carry on selling arms to some of the most despotic regimes in the world.
Not only are we
selling arms to Bahrain and Egypt
, two countries who have recently cracked down on its own people, killing many and repealing the rights of millions,
but we are selling billions of weapons to one of the cruelest countries on the face of the planet - Saudi Arabia.
This is a country who is engaged in a massive
bombing
campaign in Yemen, killing innocent civilians,
using banned weapons
and with hardly a whisper being mentioned about the slaughter in the mainstream news.
Why is it this Islamic State is being helped by the British whilst we are supposedly fighting another Islamic State in Iraq/Syria?
David Cameron was criticised the other day for not calling Islamic State just that, saying it was not truly Islamic and not a state. From where I am looking it seems to fit the bill perfectly. They adhere to strict Islamic law, just like Saudi Arabia and the Islamic courts in
Iran
and they seem to have their own state, one that
issues its own gold based currency
,
sells oil to Syria and Turkey
and is well-funded and armed.
As for fighting it, are really doing all we can or do we like the fact that a huge terrorist organisation is there to scare the masses and keep the military industrial complexes coffers full?
There have been many reports of British and US planes caught dropping Israeli and US/UK weapons to the very army we are supposed to be fighting. This is from a report in an Australian newspaper in February 2015.
Iraq's army has shot down two British planes carrying weapons for ISIL terrorists in Iraq's Al Anbar province.
Hakem al-Zameli, head of the Iraqi Parliament's National Security and Defence Committee revealed that the committee "has access to the photos of both planes that are British and have crashed while they were carrying weapons for the ISIL," FARS News reported. The senior lawmaker said that the Iraqi parliament has asked London for explanations and added it is receiving daily reports from security forces and people in the province on countless flights led by the U.S.-led coalition's planes, which airdrop weapons and supplies for the group in terrorist-held areas.

The Iraqi lawmaker explained that the United States prefers the chaotic situation in the province because it reportedly does not want the

ISIL

crisis to come to an end. The al-Ahed news website quoted Khalaf Tarmouz, head of Al Anbar Provincial Council saying that they have "discovered weapons made in the United States, European countries and Israel from the areas liberated from ISIL's control in Al-Baqdadi region." Mr Tarmouz added that the weapons made by European nations and Israel was discovered from the terrorists in the Eastern parts of Ramadi.
Read more at: www.australiannationalreview.com
Apart from our lacklustre or duplicitous fight against
ISIS
in one region we are also busy arming some of the most human right abusing nations on the face of the earth. In fact from our own list of 28 potential human rights abusing countries, we are currently selling arms to 23 of them!
How is that for hypocrisy?
Does this list of human rights abuses mean anything as it sure doesn't look that way.
If we wanted to try to repeal the tide of Islamic extremism in the world and take our holiday makers faces out of the firing line then maybe we should be strictly adhering to lists such as these and banning companies such as BAE from selling weapons to countries who
publicly whip and jail women who have been gang raped
purely because they left the house by themselves. A medieval country that is no better in my eyes than the Islamic State to the North.
Maybe we should be a voice for reason and legality by not being scared of the
USA
or Israel and their lobby groups and say loudly that:
a) Israel is a war criminal when it slaughters children and women in the street when it attacks Gaza en mass after it feebly retaliated for the slaughter of its own citizens. It always seems to be the Palestinians fault but you only need look a few days ahead before finding some Israeli crime that was the instigator of any firecracker launched against Israel's "Iron Dome".

b) We should say that the USA is not the bastion of freedom and democracy that it pretends to be and that it's new "laws of war" that have legitimised the killing of journalists as "unprivileged belligerents" is unacceptable along with the killing of retreating troops.
We should also try to revert the tide of war by using some logic for once and realise that
our foreign policy IS a major contributor to many people's radicalization
that leads them into the hands of extremist groups.
We need to do all we can to resolve the Israeli / Palestinian conflict. Recognise Palestine as a country in the UN and give it the ability to take Israel to court for crimes it has committed. Force Israel to define its borders, return the illegal settlers to within Israeli borders as defined by the UN decades ago, stop the blockade on Gaza and attack all (recent and previous), hijackings of aid flotillas as Piracy on the high seas. Tony Blair was a Zionist stooge who cared little about peace and more about making money as Official Middle Eastern Peace Envoy. We need to get Israel to play in the same legal framework as other countries that we are expecting to such as Iran who we are expecting to bend over backwards to prove they have no nuclear ambitions without a bomb in sight, whilst Israel is sitting on a stockpile of at least 200 war heads and is not even a member of the Nuclear Non Proliferation Treaty. Hypocrisy!
We should realise that we have caused more extremism than if we had just left well alone in Iraq. Saddam Hussein may have been a horrible dictator but at least the 3 countries we cobbled together with the French after World War I stuck together without infighting. It seems cruel to say but if the Arab Spring has shown us something it is that if we remove the Western backed dictators that were ruling these countries that seem to fall apart into civil war and ethnic strife pretty quickly. We had no reason to go to war with Iraq our ex ally apart from the fact Tony Blair promised to George W (I speak to God) Bush that he would. What happened, Iran has taken control of the Shia's in the South, the Kurds have basically created their own country to the north and the Sunnis have created the beast of ISIS in the rest of the country. Splitting the country into three parts on ethnic lines seems the logical way forward if we don't want ISIS to take all before it.
We should admit that supporting "moderate" groups fighting Assad in Syria, like the Free Syrian Army, was a mistake. These groups are now ISIS controlled and there even been instances of western air drops of supplies falling into ISIS held locations and UK planes being shot down by Iraqi defence forces for seemingly dropping supplies to Islamic State deliberately. The FSA has been found to have sold kidnapped journalists to ISIS who were then beheaded as well as committing despicable acts of its own such as the famous video of a FSA solider ripping the heart and lungs out of a dead Syrian solider and eating them on tape. There are NO moderates to support and if we want to defeat ISIS we should be willing to admit that the only real forces on the ground willing to do the fighting for us are the Syrian Army, The Kurds and the Iranians who have been the only forces along with Shia militias preventing the US trained Iraqi forces from turning tail and running away like they have done on numerous occasions even when outnumbering their enemy. We should forget past and current issues and support Iran and Syria in their fight against ISIS as surely they are the lesser of two evils?
We should ask WHY is it that Israel feels no threat from ISIS on their doorstep. When every other Islamic terrorist group in history has labelled the Israeli conflict as the major point of grievance, ISIS has been very quiet on the matter. You would think Israel who is always going on about how they are fighting for their very existence in the region, would be scared shitless of such a well-funded and armed group on their borders. Instead they are more worried about firecrackers from Gaza than the tens of thousands of well equipped Islamic nutters on their flank. Could it be down to the fact they are arming them in a divide and conquer tactic? Iraq and Syria's armies are no more and the Greater Israel project could be back on seeing they have no fixed borders. Do they see this as a chance to expand or are they not scared for some other reason. Why is it ISIS are not even considering attacking Israel when any Islamic terrorist group worth its name with as much weaponry and money as they have would have them as their number one target?
Russell Brand on British Foreign Policy Hypocrisy
Whatever you think about
Russell Brand
he makes some good points about UK foreign policy in this podcast.
View his reaction to the horrific events in
Tunisia
and the response of David Cameron.
If British foreign policy is truly a force for democracy then why does the UK sell arms to repressive states?
View Russell Brand and
"Tunisia Minute Of Silence - Total Bullshit: Russell Brand The Trews (E350)"
on YouTube.com.
By Dark Politricks
View the original article on my main site at
www.darkpolitricks.com
© 2015 Copyright Dark Politricks