What do you feel about the recent UK election results?
By Dark Politricks
Did any of you foresee the result of the recent UK general election in which the Tories won an overall majority despite every poll leading up to the election calling it too close to call.
There was a general expectation across the media that there would be another hung parliament and probable coalition government with the Lib Dems as King Makers.
The multitude of polls preceding the election were very wrong, whilst the exit poll was spot on.
This led to ex Lib Dem leader Paddy Ashdown to embarrassingly have to "eat his cake" on the subsequent BBC's Question Time due to his comments on election night TV that:
"If these exit polls are right I will eat my hat" - Paddy Ashdown
His party, the Lib Dems were almost wiped out and went down to single figures losing 49 seats and leaving just 8 MP's in parliament.
Along with 2 other party leaders, one of which changed his mind after a day (Mr Farage), the Lib Dems leader
Nick Clegg immediately resigned
leaving the future of the party in doubt along with Labours.
The Labour party also had a bad night, almost being wiped out in Scotland, and losing 26 seats. However Labour still managed a 30% share of the popular vote despite pundits calling the election
"too close to call"
right up until the votes came rolling in for the
Tories
across England.
The Lib Dems were never going to be forgiven by their core voters for joining the right-wing
Tories
instead of their natural cohorts, the left leaning Labour party, in a coalition. Many
Tory
back benchers were very unhappy at the unequal number of Lib Dem ministerial posts that were given out to their junior partners in the collation that was, as we were kept reminded, in
"national interest".
Whilst they may have helped prevent some
Tory
excesses and helped push the amount you can earn before paying income tax up above £10k, they showed their lack of respect for the voters, mostly young and left leaning, when they broke a much publicised pre-election promise never to raise University tuition fees. This promise was broken almost as soon as Nick Clegg got made Deputy PM and access to ministerial chauffeurs and apartments.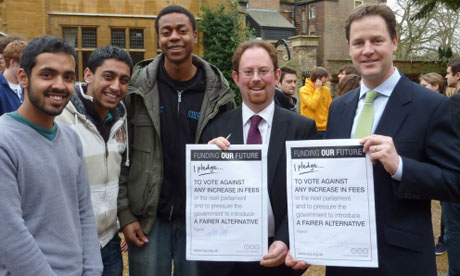 The Lib Dems sign pledge with top students never to raise tuition fees in 2010
Tax breaks for the rich, a raise in VAT which is a tax raise that affects the poorest the most, a massive failure to reverse the huge police state Labour had built up and a decimation of the benefit system to save money instead of taxing the banksters who had caused the financial crisis were all unforgivable as well.
We were kept being told that the deficit was shrinking whilst in fact it grew along with the national debt. The last Government was not a success story at all.
Maybe Nick Clegg saw joining the Tories as his only chance to get some modicum of power whilst he could. He must have known the writing was on the wall when he basically stuck two fingers up at his constituents and joined the Tories.
Letting the banksters get off scot-free, supporting the Tories war on Libya and speaking out for Israel instead of condeming it when it attacked Gaza which was quite common to hear when they were the third-party with no expectation of favours for power were just some of the things that pissed off grass root Lib Dem voters.
He thought the electorate were willing to vote for constant coalition with a
referendum
on a change in voting but the country wasn't ready for the watered down choice they had to make. Maybe if they had made their point after the recent election more people would have been willing to vote for a change.
You just need to look at how the popular vote in the recent election matched seats to see how many people would be pissed about the current voting system.
The Green party and UKIP together won around 16% of the popular vote (

5,038,712 votes)

yet only returned one MP each to Westminster.
Yet on the other hand the
SNP
won far less when it came to the popular vote,
Scotland has a population of 5.2 million
and only
1,454,436 people voted for the SNP,
yet they took all but 3 Scottish seats
, 56, a massive gain of 50!
They almost managed to
take every single seat in Scotland
but instead chose to leave one each for the major 3 parties taking the remaining 50 seats. The SNP are sending a nationalist mob down South who want to see an end to the union and more Scottish powers devolved. This includes the articulate and always enjoyable to watch debate, former leader of the party, Alex Salmond as an MP.
People who had never thought about electoral reform are now calling for it.
Those people who say we only just had a
referendum
on changing our first past the post system seem to forget that the choice on the cards for voters was not a
proper proportional system
but instead a form of
alternative voting
. This is where you would mark an alternative candidate who would take your vote if no-one managed an overall majority.
It does seem odd that Scotland's 1.5 million voters can send 56 MPS to Westminster yet England can vote over 5 million to achieve just 2 MP's.
UK vote share after 650 of 650 seats
| Political Party | % of Popular Vote |
| --- | --- |
| Conservative Party | 36.9% |
| Labour Party | 30.4% |
| United Kingdom Independence Party | 12.6% |
| Liberal Democrats | 7.9% |
| Scottish Nationalist Party | 4.7% |
| Green Party | 3.8% |
So now without the Lib Dem's "Steadying Hand", as one of their election adverts put it. There to prevent Labour spending all the cash again and there to prevent the Tories from being too mean, we are now left with an overall Conservative majority.
That means that there is no-one to stop them hammering away at the poor whilst letting their rich benefactors and friends all off with
tax cuts
and a far too complicated tax system that provides enough loop holes for most of the
Tory
front bench to keep
multi million pound trust funds overseas
and away from
the UK tax man
.
Surely this is a money bomb for accountants and the rich looking for loop holes.
The Hong Kong tax code, widely held by tax lawyers to be the most efficient in the world, is a mere 276 pages long.
The British tax code which has tripled in size since Blair got into government in 1997 is currently in excess of 17,000 pages!
If our government really wanted to claw back some money from waste they would surely shorten this gargantuan piece of legislature.
As anyone knows the longer and more complicated a piece of legislation the more loopholes and get out of jail cards are to be found within its pages.
Instead they will carry on using their right-wing supporter rags of papers,
the Sun and The Daily Mail,
to attack benefits claimants and the poor. Obviously forgetting the fact that benefit claimants had nothing to do with the
banking
crash or the dramatic rise in the national debt and deficit under the previous two administrations.
Instead they
get $1.9 billion fines
in-case the
banking
system is "
destabilised
".
I don't understand why their banking licence could have been kept whilst still jailing the bankers in control of the slush funds and drug cartel accounts as an example.
London must continue to be the bankster capital of the world
it seems. This won't change under any
Tory
administration.
What will change under the new Government?
Well let's watch embarrassingly as our country, who actually came up with the
European Convention
on Human Rights, pulls out of the
Human Rights Act
. This is despite the fact that it was written by
Conservatives
after
World War II
to show the newly freed countries that some things related to a countries ethics and morals should be set in stone and not relative to a countries current situation.
This will be something that will not only be a massive blow to civil rights in this country unless replaced by an English Bill of Rights that actually means something and is kept to, not invalidated bit by bit over the years as the US Bill of Rights has been.
People don't seem to realise that the Human Rights Act although abused by a small minority of terror suspects in jail or on control orders trying to prevent extradition to countries where they will be tortured - including the USA - is there to protect them as well.
You may read the odd cherry picked
Daily Mail horror story
about the new
Abu Hamza
we can't extradite to a country X or Y where they maybe tortured or executed. Why, because we have morals and see ourselves as a civilised country
not a 7th century Islamic State
where heads roll as often as the weapons we sell them are unboxed.
The national debt will continue to grow
due to the lack of GDP, plus
the interest rate apartheid
which sees banks loan money from the
Bank of England
at half a percent whilst the average man now has to rely
on WONGA loans
with an APR of 1,500%.
The current national debt stands at £1.36 trillion, almost triple the £0.53 trillion it stood at in 2008, the time of the economic collapse and grows at £5,170 per second.
As stated on the National Debt Clock website:
"Mainstream media headlines today are focused on Britain's record national debt, which just surpassed £1 trillion, a figure that can only exponentially increase unless the entire mechanism of Government finance is overhauled.
The truth however is much worse, factoring in all liabilities including state and public sector pensions, the real national debt is closer to £4.8 trillion, some £78,000 for every person in the UK."
Our National Debt Problem

UK National Debt Over Recent Years
During 2007, the Labour government borrowed £37.7bn, of which £28.3bn was invested in big projects (the balance of £9.4bn represents the current budget deficit). However during the last government during 2013, the Conservative-led coalition borrowed £91.5bn, with just £23.7bn invested.
So when you hear George Osborne talk about fixing the hole in the roof or reducing the deficit / national debt, take it with a big pinch of salt.
Instead of recouping and saving billions by doing just some of the following ideas they are mostly going to attack the poorest in society, both here and abroad.
Saving some money...
It really pisses me off when I hear MP's call our rotating Trident submarines at sea an "independent" nuclear deterrent. This is because they all rely on US GPS satellite systems. Unless we put our own GPS system up into space we would always have to ask the permission of our US allies to fire any nuclear missiles anyway. Therefore it makes the whole system redundant.
What if we had to go to war with the USA? Why not save the £34bn and spend it on the
NHS
instead. Nukes are not going to help in the war against terror and when China and the USA finally duke it out our piddly number of missiles is going to be inconsequential when it comes down to it.
Satellites will be one of the first victims of any war between the US and China. Falling from the skies like rain drops in any major conflict as China and the USA race to become the superior technological and information power house before any real bullets or nukes are fired.
We seem to blindly follow US policy as if it's our own. The wars in Iraq and Afghanistan have cost the UK £20bn by 2010 and the final cost when you add in extras such as the cost to society due to the fact that a large proportion of homeless people, those with mental health problems and prisoners are ex service men will increase that by the end of 2015.
Add to that
the £1.75bn cost of David Cameron's war in Libya
and the cost we are now dealing with due to the failed states we have created across North Africa,
people smuggling into Europe
, and increased security checks on immigrants due to fears ISIS is using people trafficking to implant sleeper cells in the country and
the cost of recent wars reaches £12bn.
This does not even include secret wars such as our involvement training fighters in Syria, Ukraine and Yemen.
During 2010-11, the HMRC estimated that companies were avoiding tax worth £4.1bn however some campaigners such as Richard Murphy of Tax Research UK, think that the real figure could be £12bn or more.
This is not even including the amounts of money "
legally
" avoided by our huge tax code that gives corporations such as
Vodafone the means to avoid £6bn in tax during 2010
, an act which spawned
the anti-austerity protest group UK Uncut
.
Added together legal and illegal tax avoidance could easily be in the £20bn+ figure per fiscal year.
These are just 3 things that could be done to prevent more austerity whilst increasing spending, generating growth by creating jobs and not wasting money on pointless exercises in hubris by going to war to destroy a country only to spend more money trying to re-construct it and deal with the aftermath of failed states such as Libya and the recent people smuggling epidemic.
Has
David Cameron
even admitted that the hundreds of people dying in the Mediterranean are related to the failed states of Libya and it's neighbours which we helped create. From
Tony Blairs 2004 kiss with Gaddafi in the desert
to blockades to prevent immigrants reaching Europe in two easy steps.
Tony Blair makes up with Col Gaddafi in 2004
A cramped boat full of desperate people trying to flee the failed state caused by David Cameron and the Axis of Wars destruction
Will the Tory government do any of these 3 easy ways to save dozens of billions of pounds?
The answer is obviously no.
The divide between the rich and poor will get wider.
Instead the Tories will attack immigrants, benefit claimants, people who cannot get good jobs and rely on job seekers allowance and more diversionary tactics as they continue Maggie Thatcher's dream of a total privatised country.
We only have 5 more years until we get another chance to vote for a party to represent us. The problem is there doesn't seem to be a party on the horizon I can see myself putting a cross against anytime soon.
Labour is Tory Lite, and with the resignation of Ed Milliband, a person many could never imagine seeing as PM, much in the same way I can never imagine Boris Johnson as PM, let alone Mayor of London, we have no real party that represents the people anymore.
The Greens did well to get 1 million votes but with our current system of voting, one MP per million votes in England is not going to get us far and they still have an environmental edge that puts many off them despite the fact that if you read their manifesto there would be many aspects to it that you could find yourself agreeing with.
Maybe it is just the fact that they are led by a woman and their only MP,
Caroline Lucas from Brighton
is a woman who puts many working class men off from voting for them.
Personally this election, I did as
I said I would and spoilt my ballot paper
. This was because there was no-one on it that represented my views. I live in an area where Tories have always ruled and there is no chance of Labour or Lib Dems getting in instead. In one election in my ward Labour and the Lib Dems didn't even try to contest the seat which allowed the racist BNP to come 2nd!
I hoped enough people would do the same so that even this amount of spoiled papers would have to be recorded along with party numbers and shown in graphs such as the one from the BBC website I put on this page.
From anecdotal evidence from people I spoke to at various events and groups I know quite a few people also spoilt their papers.
I would still love to know how many people did write "None of the above" or spoilt their ballot in some way or another.
If you took the effort and time out of your day to go and vote there should be a "None of the above" option by default to measure peoples dissatisfaction with local politicians or political parties. However because there isn't we should create our own.
We have plenty of protest groups about but no political consensus or a political body that we can use as an umbrella for them to rest under.
Students, the young unemployed, the people who cannot afford to live anywhere due to the lack of cheap housing, the anti-war brigade, the pro privacy, anti GCHQ/NSA Pirate groups. UK Uncut, Occupy, anti-austerity groups, religious organisations and charities that manage food banks and support the poor. These are just a few of the protest groups around at the moment.
Groups helping wounded soldiers and soldiers disillusioned with the wars they have been forced to fight. People working 50 hour weeks on minimum wage or not being able to take loans out at decent
interest rates
due to
interest rate apartheid.
These are more people who might be looking for a new political home.
Basically anybody who doesn't want to see the gap between the rich and poor get wider would be a perfect member or voter for such a Peoples Party.
In the meantime let's just hope we still have
a public NHS
, good public schoolmma decent benefit system and proper jobs with decent pay in 5 years time rather than
another tripling of the National Debt
and more lies about reducing our debt that the current Chancellor likes to spiel.